Overview
Amazon connector connects to Seller Central through Amazon Marketplace Web Service (Amazon MWS). Amazon MWS is an integrated Web service API that helps Sellers to authorize a third-Party developer to access their Amazon Seller account. Connect your Amazon seller account to your DCL account and we will fulfill your orders.
To setup your Amazon Seller store to DCL account, we need your store account identifiers (Seller ID, Marketplace ID, MWS Authorization Token).
NOTE: To acquire store identifiers, you will need Developer Account Number. Please contact DCL support to have Developer Account Identifier.
Acquire Store Account Identifiers
Go to Amazon MWS
Click the Sign up for MWS button.
Log into your Amazon seller account. Once you logged in you will see multiple options like below image.
Select the 3rd option I want to give a developer access to my Amazon seller account with MWS.
In the Developer's Name text box, type the name of the third-party developer to whom you're giving access. This doesn't need to be the exact name; it is merely for your reference in the future.
In the Developer Account Number text box, enter the MWS developer account identifier given to you by DCL.
Click the Next button.
Accept the Amazon MWS License Agreements and click the Next button.
Copy your account identifiers (Seller ID, MWS Authorization Token, and Marketplace ID) and paste on the Store Setup form.
It is also a good practice to print this page and save it in a safe place.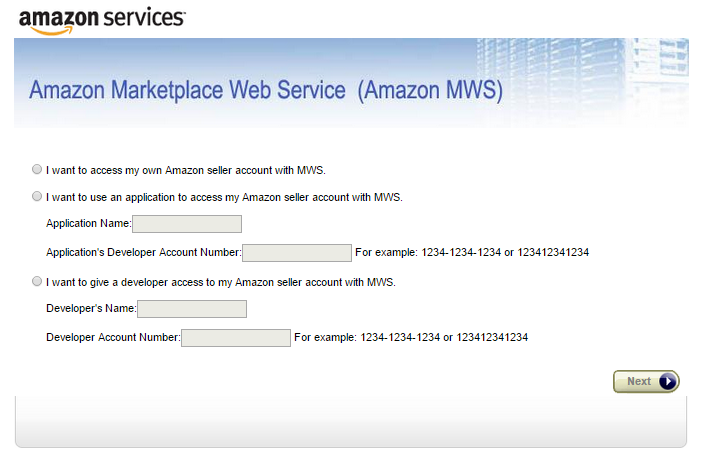 Access to Amazon Connector
Press the button on the top of this page. You will be asked to enter the DCL eFactory credentials.
If you have already set up your store, you will be redirected to "Store Preferences".
General settings
Enable DCL API

Enable DCL background processes to acknowledge and fulfill orders, and update stock quantity.

Acknowledge Only

DCL will only acknowledge orders but not fulfill unless requested.

Collect Prices

DCL will collect all the prices for the order.

Update Inventory

DCL will update store inventory. The background process is scheduled to update your inventory every 4 hours. If you need to update it more frequently, please contact customer support.

Import Days

DCL will import orders only on these selected days.

Import Time (PST)

DCL will import orders only in this range of time. Make sure the time range is at least 30 minute wide.

Order Age

Time allowed for customer changes before order is transferred to DCL.
Mapping shipping methods
Shipping methods defined and enabled in Amazon Seller store need to be mapped to the DCL shipping methods. Select the tab "Shipping methods" to review and define additional mappings.